2023 Halloween Season
Opening Night Sept 29th
7pm-11PM Nightly
Dates:
September 29th – Oct 31st, 2023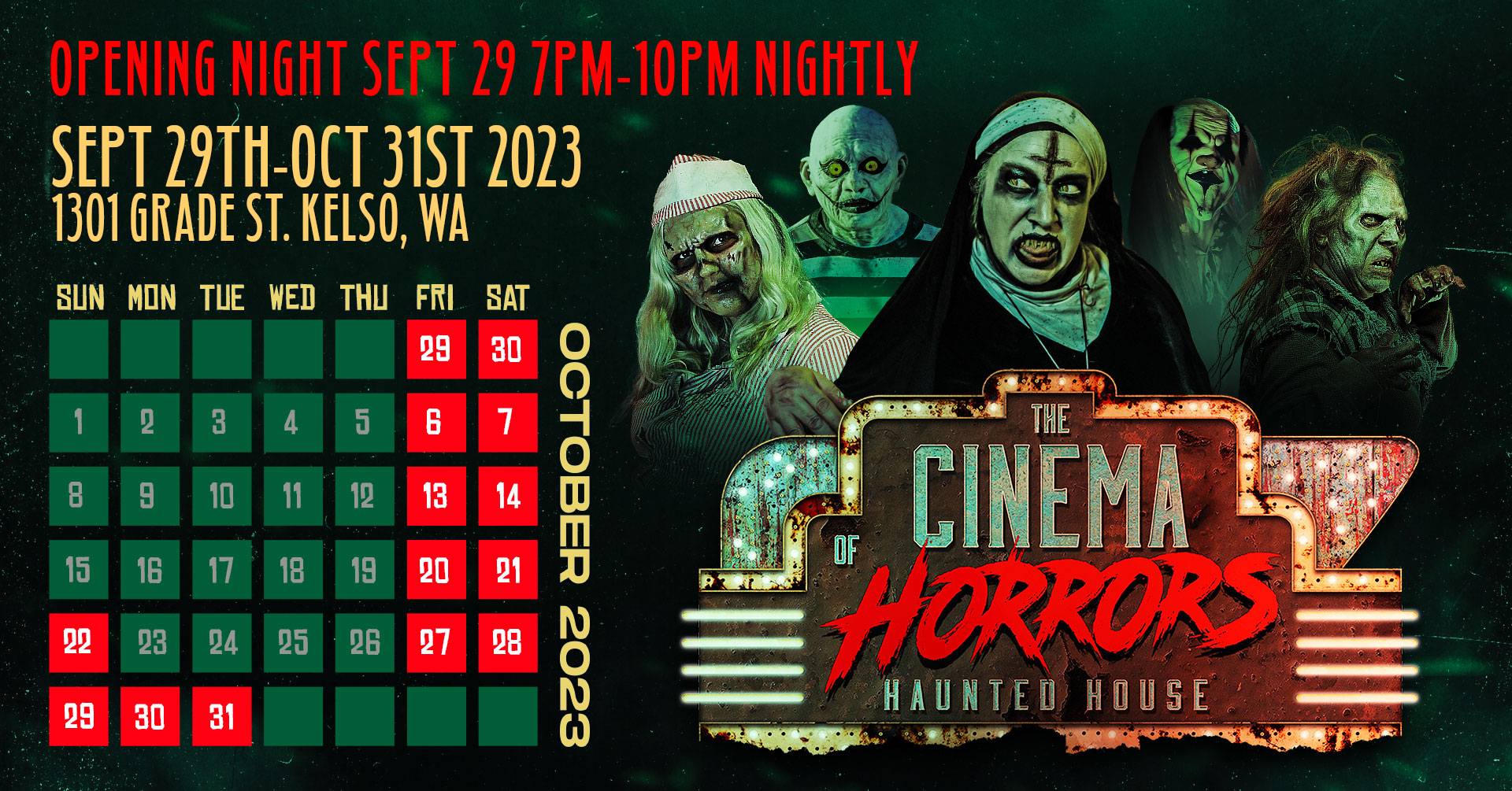 The Cinema of Horrors Haunted House at Three Rivers Mall.
Voted a Must-See Haunted House in all of Washington State, The Cinema of Horrors is Southern Washington's most entertaining and scariest Halloween production featuring four brand-new haunted houses for guests of all ages to experience. While the Cinema of Horrors is an all-ages, family-friendly event, it's recommended for audiences 13 years or older. We have a non-scary, trick-or-treat night for younger audiences so they don't miss out on the fun!
2023 FEATURED ATTRACTIONS
Featured On
SEE WHAT PEOPLE ARE SAYING
Nice haunted house. Well done. Great price and canned food for charity. Nice people. I'm a scared easily kind a person. They weren't to hard on me.
Kimberly Sievert
2022-10-31
This was our first time going and we had so much fun! All of the cast and staff were great - definitely got a few jumps out of us during the movie! Excited for next year!
Had an amazing experience taking my kids, they really put on a show and it was scary enough to where th kids we're scared but not terrified. Way to go guy's keep up the great work!!
We loved it. Great family fun
I love it! I was scared just by walking into a room and hearing screams, what creeped me out the most was when 3 of the actors started saying my name creepily and I was freaked out!! I would love to come again and keep up the good scares. 😁
As a person who really enjoys anything scary, I've been to quite a number of haunted houses and such. I pretty much never get scared... Well, until this year at the Cinema of Horrors in Kelso WA. I jumped three times. True, honest jump scares. Kudos Kelso's Cinema of Horrors. SIGNED: The person who WASN'T seen before 😉